I was going to tell you about the two magnificent bull elk that passed along the edge of my study site at 1668 m on the east side of the mountain, and how because I was alone, and kneeling, and looking at leaves, I saw them before they saw me. I really wanted to tell you how funny the gray jays found me the week I spent setting up air temperature sensors at the end of the field season, and how they came close, close, close, to watch and yell while I threw a tennis ball up into the trees like a maniac only to have it come straight back down again at my eyes, or arc over the wrong, too-low branch, or get stuck between the rough embrace of lichen and branch. I was hoping to point out how different being a second-year PhD student feels than being a first-year. How much I've been enjoying coding lately. How I went to a scientific meeting for the first time ever and printed my poster three times as big as everyone else's because I didn't know any better. I was going to say I know there will be ups and downs, but hey—maybe this is going to be all right. 
But I waited too long, and November 8 was two weeks ago today, and nothing is all right. So now we're going to talk about horseflies.
I'm fond of complaining about mosquitoes, which settle like a veil and leave you pissed and itchy and distracted as all get out. But at least they don't really even bite, just snake their slender probes beneath your skin and hope that you don't notice them until they're done. When you do notice them, mosquitoes are easy to kill. Horseflies (family Tabanidae), on the other hand—they're hard core. They've got mouthparts like sharpened, jagged sabers, and they don't suck from your veins—they slice open a shallow wound on your skin and wait for it to fill with blood, then sponge it up. You know. You've been bitten by a horsefly in high summer. It's not a background buzz or burning itch you slap at lazily and then go on with what you're doing—it's the pain of having something cut out a visible piece of your flesh. It's sharp. And it sharpens the mind.
Plato wrote that Sophocles likened himself to a horsefly, though he used the word gadfly—from Old Norse gaddr, a sharp metal spike, a goad. The city state of Athens, Sophocles believed, was like a huge horse—noble in its stature, but so large that it was apt to settle, slow to move. His words and ideas were the painful bites that it needed to sting it into wakefulness.
Listen, Sophocles is dead. He's been dead for a while. Were he to be struck down, he said, Athens would sleep on…"unless God in his care of you sent you another gadfly." So here we are. Our great state is asleep. Our leaders are burying their heads beneath their hands. Our media are playing lullabies. There is no other Sophocles. If you believe there is a God, you'd better believe we are the only ones he is sending. 
Here's one set of ways to bite. Here are 2018 races to pay attention to. We need to fund the vulnerable Democratic seats to keep them from going the other way, and we need to fight for the few Republican seats that may flip. And here is what's happening at Standing Rock right now that needs our urgent attention. Ross and I have done some of this work, but not enough by far. What stands in my way is that a lot of this requires a hell of a lot more personal discomfort on my part than I'm normally willing to give to anything besides type 2 fun. Right now, for instance, as I type, I have an idea about something quite small and specific I can do to help organize my community to action (setting up a regular meeting time for friends who might otherwise not do this to sit down for 20 minutes a week and make quick phone calls to reps). Yet I'm reluctant to take the first step toward doing it because it will take time (that I don't feel like I have) and leadership (that I don't want to practice). This is incredibly embarrassing to say. White nationalists are literally giving Nazi salutes to the president-elect of the United States and I don't feel like I have time and leadership to spare. I'm saying it to you precisely because it's embarrassing, and I'm committing right here and now to being way fucking better than that. To fastening, arousing, persuading, and reproaching, all day long and in all places.
There is no other Sophocles. We're it. Terrifying, huh. Too bad.
"For if you kill me you will not easily find a successor to me, who, if I may use such a ludicrous figure of speech, am a sort of gadfly, given to the state by God; and the state is a great and noble stead who is tardy in his motions owing to his very size, and requires to be stirred into life. I am that gadfly which God has attached to the state, and all day long and in all places am always fastening upon you, arousing and persuading and reproaching you.You will not easily find another like me, and therefore I would advise you to spare me. I dare say that you may feel out of temper (like the person who is suddenly awakened from sleep), and you think that you might easily strike me dead…and then you sleep on for the remainder of your lives, unless God in his care of you sent you another gadfly."

—Plato, Apology
P.S. Yes, only female Tabanids take blood meals. Don't let that stop you, men.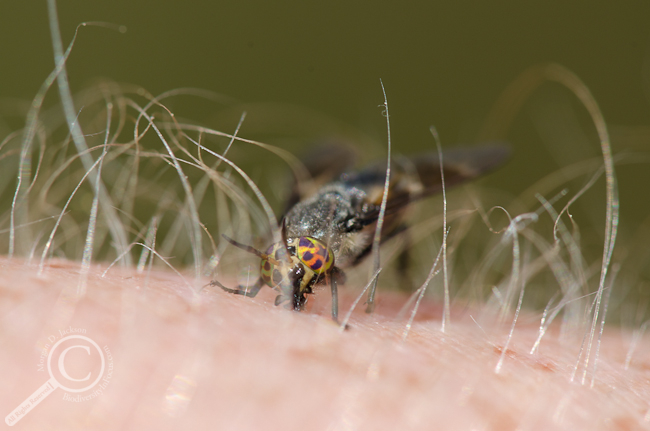 Photo of a female Tabanid chowing down on the photographer, used by permission (all rights reserved by the wonderful Morgan Jackson). Click on the photo to read about Morgan's encounter with this beauty.